作品展開催までの流れ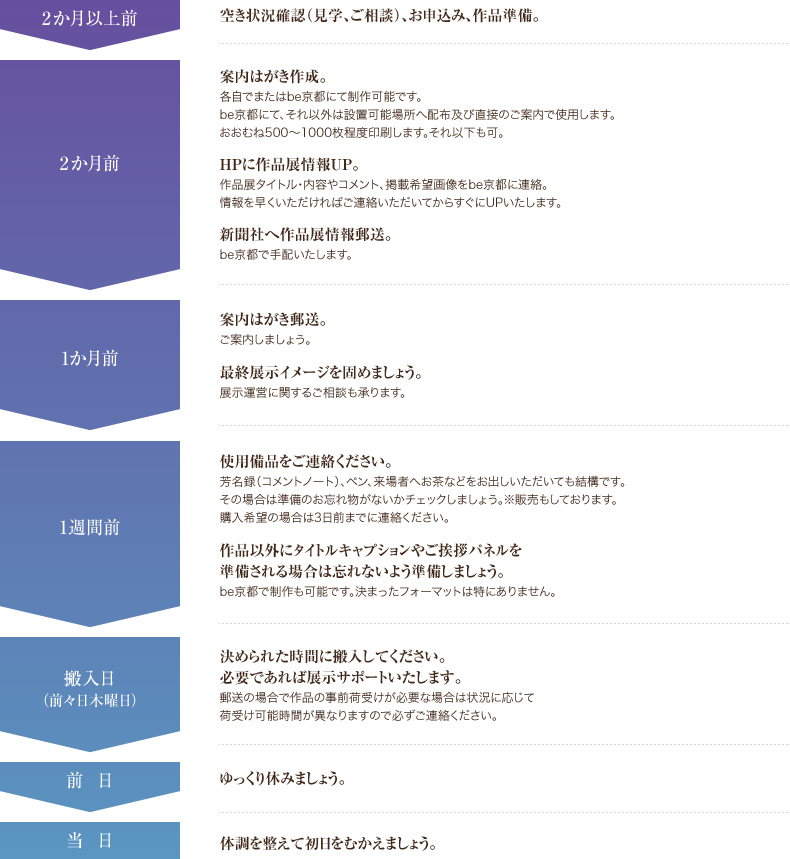 Exhibiting Your Artwork in Kyoto, Japan
Finding the right gallery
There are a lot of galleries in Kyoto. First, identify a gallery that matches your art. Some galleries might specialize in photography, others in sculpture or oil painting. Be sure to check whether the gallery is a rental space or not. Most galleries in Japan are rentals and are used for personal exhibitions. There are also galleries that feature special exhibitions or permanent exhibitions. You can exhibit any artwork at be-kyoto regardless of whether it is two or three-dimensional. be-kyoto is a rental gallery. We also hold special exhibitions with artists.
Rental Period
The general rental period is one to two weeks, but we can accommodate shorter or longer periods. Feel free to ask.
Invitation
It is important to create invitations or postcards and send them out to the people you would like to come to your exhibition. We offer design and printing services too. Our promotional services include providing the media with exhibition details, publicizing through our website and displaying invitation cards in the gallery.
Guests
The people that visit be-kyoto are our clients, fans of the artists holding exhibitions, and both amateur and professional artists who happen by. The gallery is in a relatively quiet neighborhood compared with the more touristy downtown area around Shijo-Kawaramachi streets. We are blessed to have wonderful neighbors: the Kosho-in temple is next door and the Kyoto Imperial Palace is nearby. Our district may not be as busy as Shijo-Kawaramachi, but the people here are lovely. As we offer many classes, people who are interested in arts and culture often come for a visit too.
Exhibition Installation
You will be responsible for transporting your artwork to the gallery for the specified date and time of the exhibition. It is also possible to ship your artwork to the gallery and have it displayed by us for a fee.
You are welcome to curate your own exhibition and decide how you want it displayed. You are welcome to curate your own exhibition and decide how you want it displayed. An expert curator will be available to give you advice for displaying your artwork. It is always fun to have an opening party, a class, a concert, etc. for an exhibition.
During the Exhibition
We encourage you to spend time in the gallery because it is a good opportunity to meet the many visitors. But we do have staff at all times to take care of visitors in your absence. You may offer tea, snacks and the like in the gallery. We have a stereo for background music, so you can even play your favorite music. We will give you a souvenir album of your exhibition as a gift. We hope it will be a nice memento for you. You will definitely be satisfied with the services at be-kyoto that cannot be found anywhere else.